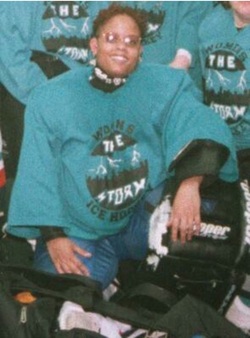 Darcy Edmonds Memorial Tournament
When: September 8-10, 2017

Where: Dorothy Talbot Memorial Rink (O'Maley School)
32 Cherry Street
Gloucester, MA 01930

Darcy Edmonds (1971-2001)
Darcy was a goaltender for the Storm team. She was killed in a one car accident near her home in Connecticut on June 4, 2001. She leaves her partner, Wendy Krayeski. Beside being a well-liked and respected member of the Storm Women's Hockey Team, Darcy worked with hearing-impaired clients in Connecticut.
When she died, Darcy was scheduled to begin coaching at Holy Cross College in the fall of 2001 as part of a program for deaf and hard of hearing kids called "DEAFinitely Hockey for the Deaf".
To keep Darcy's memory alive, we hold an annual tournament in her memory where we donate the profit to a different charity each year.
---